Closure of the "Multilateral Seminar on Public Administration for officials from Latin American countries"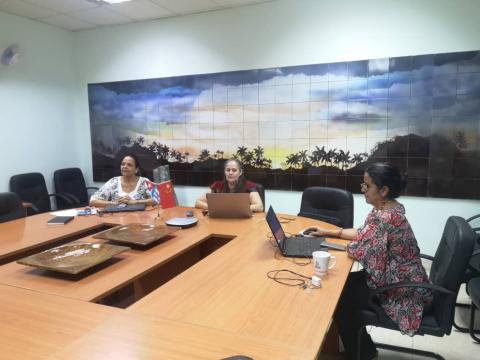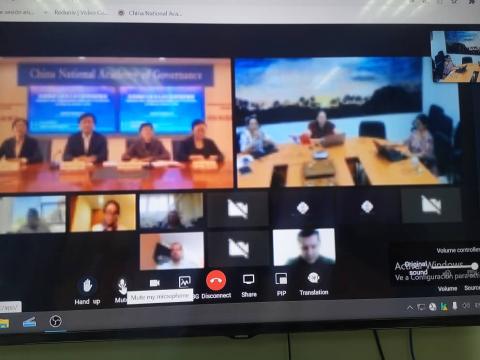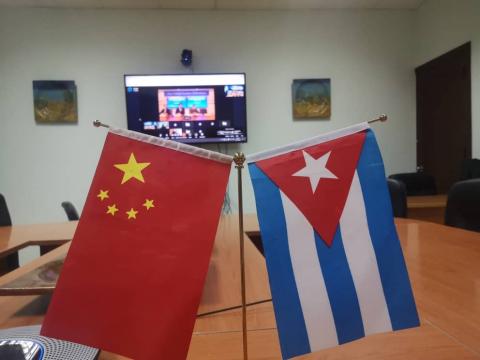 Wednesday, March 29, 2023
On March 29, 2023, the "Public Administration Seminar for officials from Latin American countries" closes, in the online modality, given by the National Academy of Governance of China (AGCh) and by Cuba and organized by the Escuela Superior of State and Government Cadres (ESCEG).
Closing ceremony was delivered by Duan Hong Xia, Deputy Director of the Hong Kong and Macao International Training Center of the National Academy of Governance of China. On behalf of ESCEG, the Rector, Dr. C. Mercedes Delgado Fernández, intervened, who expressed that it was a privilege and an opportunity to have received, from March 16 to 29, an in-depth update from the Public Administration of China, with Emphasis on what was approved at the XX Congress of the Communist Party of China. He thanked, on behalf of the 20 participants from Cuba, for the 20 activities carried out, including live and recorded conferences and virtual visits, which, without a doubt, constitutes highly relevant learning for the participants, who hold responsibilities, participating 8 Ministerial level cadres, directors of bodies, civil servants and professors of the Higher School of State and Government Cadres, who teach classes on the topics of the seminar. Values ​​the Seminar as positive, for the knowledge, exchange of experiences and assimilated learning, on the topics of Xi Jinping thought on socialism with Chinese characteristics for a new era, public policies, governance and modernization of China, strategic development, green and digital economy, the shared destiny of humanity, the One Belt and One Road initiative and regional economic cooperation, the exchange and learning of civilizations, teaching methods and training for public officials, among other topics.
On the other hand, it highlights the extraordinary significance of the collaboration that the Higher School of State and Government Cadres has had with the National Academy of the Interior of China, with which more than 22 courses have been carried out since 2015. Since 2018 alone, dissimilar courses and seminars have been organized jointly with 6 institutions of the sister People's Republic of China, in which more than 1,700 have participated, including managers and professors.
These figures show the intimate historical ties of friendship, brotherhood and cooperation between our peoples and governments, which have been strengthened in these 63 years of diplomatic relations, which will be fulfilled in 2023. The Rector of the ESCEG concludes her speech by congratulating to all the students from Cuba, Mexico and Argentina and to the professors of the National Academy of Government of China.